Watching Edwin Encarnacion these past couple of weeks has been a joy to see. He seems to be making contact with more pitches and his strikeouts for the month (5) have been very low compared to the 35 and 24 he had in April and May. Another testament to his high contact rate is his lack of walks. His base on balls number is also very low in the month of June. That's not stopping his on-base percentage because that number has clipped to .474. Encarnacion is clearly doing something different in the past couple of weeks, but what exactly is it?
Coming into the 2017 season, the Cleveland Indians paid Edwin roughly $20 million a year to be an upgraded version of Mike Napoli. Napoli was a fun player to have because he was a true home run or strikeout kind of player. Although Napoli was labeled that, he did have a great eye and therefore drew a high amount of walks.
Besides his decent play on the field, he started an exciting movement called "Party at Napoli's." Party at Napoli's was a charity event that was started by Mike Napoli and his family that was promoted by t-shirts and other apparel. Cleveland fans turned the slogan into something that was said after every Napoli home run. This slogan turned into excitement, which really was apparent in the Indians' clubhouse. It was something the players and coaches could rally around and it brought them into being a close group. Losing Napoli meant much more than the high OBP and home runs, but they lost a key part to the clubhouse.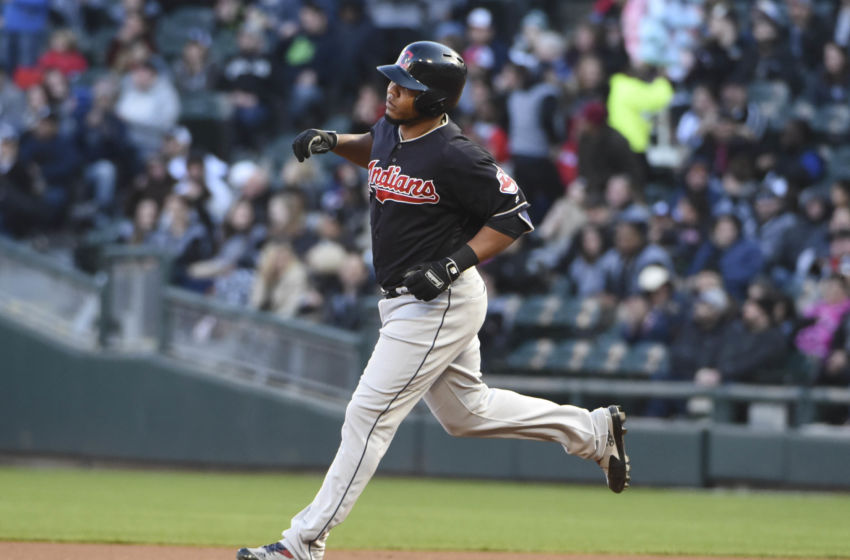 Most fans thought that Encarnacion would be easily better than Napoli on the field, but they did not know what kind of teammate he would be. He does not have the same persona as Napoli, so he can never replace him in that aspect. I personally think it took the Indians some time to get used to Edwin, but they had high expectations for him. When Edwin did not perform well in April and May, many players started taking their trust away from him. This led to Edwin losing confidence in himself and his performance suffered with it.
With that said, Encarnacion is tearing it up for the Indians now. His teammates are confident that he is the slugger is used to being. The trust is back and it looks like Edwin has finally found his groove.
Could there be another reason why Encarnacion has turned it up recently? In his career, Encarnacion has been an average hitter in the early months of the season. In April and May, Edwin's career batting average is in the .240's. That number jumps by nearly 50 points, where his career batting average is just under .290. His OBP also jumps by 60 points from May to June.
So yes, Indians fans, you can take a deep breath because the Edwin of late is here to stay. There will be more moonshot home runs that land in the trees by Heritage Park. There will be more clutch RBI doubles to bring the winning runs home. But most importantly, we will have the focused, confident Edwin Encarnacion that we signed back in December to lead this team to another World Series.
Follow the author on Twitter: @kshuki17
Images: ESPN
Purchase our CST shirts by clicking this link!!!  We now have three different colors available for your choosing as shown below!
<!-comments-button-->