The Cleveland Browns are past their rookie mini camp and in the heart of OTAs. While there are many new faces on the team including free agents and draft picks, one name seems to be brought up the most. Oddly enough, this player is not even signed by the Browns, but he is DeShone Kizer.
Coming into the 2016-2017 college football season, Kizer was seen as a 2018 draft prospect. Not many predicted him going in the 2017 NFL Draft. That prediction was quickly thrown out after his week one performance versus Texas. While only throwing 15 completions against the Longhorns, Kizer was able to pass for five touchdowns. My Twitter feed had blown up during this game and the common question was, "Who is this Kizer kid?" After this game itself, many had pegged Kizer as the number one pick in the 2017 draft, which turned out to be a knee jerk reaction. Kizer finished the 2016 season with many more ups and downs, but the downs were a lot more evident.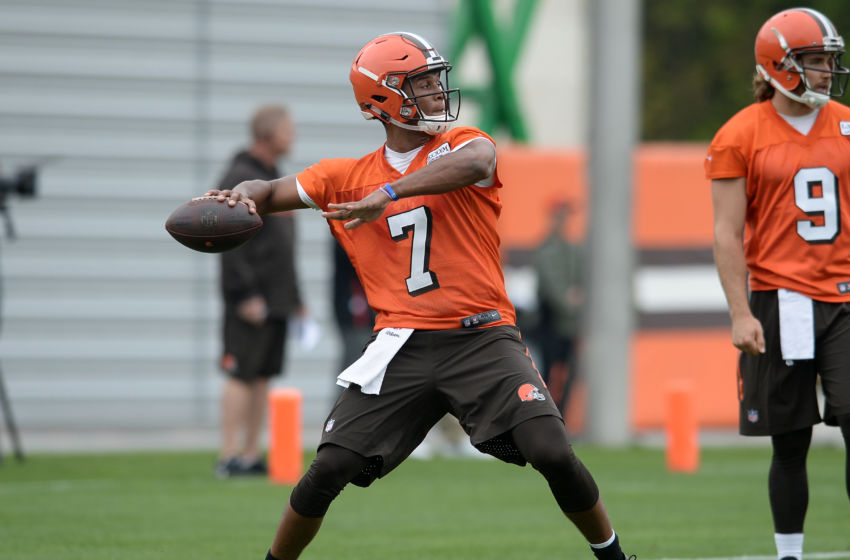 Going into the combine, Kizer was seen as a mid-first round selection. After a poor showing at the combine, Kizer was going to slip even more. His accuracy was poor and it seemed like mentally he was not prepared for the event.
When the NFL Draft had finally shown up on April 27th, Kizer was a fringe first round prospect. Many had predicted he would go to a team like the Cardinals, Texans or Chiefs. Since two of these teams had traded up for a quarterback not named Kizer, he then slipped to the second round. Then he slipped late into the second round to pick 52, where the Cleveland Browns were selecting. When Jim Brown got to the podium to make the Browns pick, many fans were thinking Kizer would be the pick and they were right.
The early actions of Kizer as a Brown were very encouraging.  He seemed to pick up a playbook his first day in Cleveland, but admitted it would take him a longer time to get it down. This was very pleasant to hear because I'm not even sure Johnny Manziel looked at a playbook while he was on the roster.
Since arriving in Cleveland after the draft, Kizer has mainly stayed here for rookie mini camp and OTAs.  While Cody Kessler is getting first team reps, Kizer is working with Hue Jackson almost exclusively. While working with Jackson, Kizer is impressing in OTAs.  His arm strength and athleticism are said to be better than any quarterback on the team. Keep in mind these are two qualities that Hue likes the most out of his quarterbacks. With this one-on-one attention from Jackson, it tells me that Jackson sees potential in Kizer and he can get Kizer ready soon.  What is soon? Week 1? It's too early to exactly say, but it's starting to look like week 1 is possible.
Should Kizer be the starting quarterback Week 1? While I have no problem with either Kessler or Osweiler starting, Kizer should be given the job if he shows he can play. Kizer has all the tools to be great in this league, it's just a matter of refining those skills and putting them together. With this said, Kizer is still very raw, but Hue Jackson is seen as a quarterback whisperer.
With proper coaching, Kizer can turn into something special.
At Notre Dame, the 2016 season was dysfunctional from the coaches all the way down to the players.  This negativity engulfed Kizer and it was one of the main reasons why Kizer's performance slipped.
Starting a rookie quarterback Week 1 has been looked down upon in recent years. Experts say that teams can ruin their quarterback if they play him too early. Think again, because this tweet says otherwise:
https://twitter.com/TheKardiacKid/status/868870670247239683
My thought has always been to see if a quarterback has the skills to play as soon as possible.  A quarterback can learn a lot from the sidelines with a clipboard in his hand, but nothing can replace being on the field against an actual defense. If the quarterback can play, he should start. If Kizer is ready, no one should stop him from starting. With the early reports out of Berea saying Kizer could be 'the guy,' let the kid play and see what he can do.
Follow the author on Twitter: @kshuki17
Photos via: Browns.com
Purchase our CST shirts by clicking this link!!!  We now have three different colors available for your choosing as shown below!
<!-comments-button-->