Not The Best Fantasy Football Podcasts – Waiver Wire Adds for Week 2
Week 1 was exciting as expected. It was filled with some high scoring games, some games that came down to the wire and rivalry games that were competitive. As many of us know, fantasy football championships are not won during the draft. The draft is important because it gives you your foundation, but it is only the craft that will take you on your season voyage. If you think of the draft as your boat, you can view the waiver wire as the supplies that you're loading that boat up with. During the season it is important to add talent when you can to ensure you have a strong matchup on a week to week basis.
Heading into Week 2, there are some guys that are on most waiver wires that we feel are worth taking a shot on. Some will be for the long-term, while others might just be a flash in a pan. All of these guys are worthy of that final spot on your roster, though that is usually rotating. Please keep in mind though that if you have a handcuff, it's crucial to make sure you evaluate the payoff of adding one of these players vs. dropping the handcuff.
google.com, pub-2319592412860037, DIRECT, f08c47fec0942fa0
Geronimo Allison, WR, Green Bay Packers
Will Collins – @fanaticallywill
Offenses in the NFL that are as good and move the ball like the Green Bay Packers always have the opportunity to produce many viable fantasy options. With the departure of Jordy Nelson, in steps Geronimo Allison and he did so accordingly. He totaled eight targets, only two behind the team leader Randall Cobb and the same as Davante Adams. Allison ended with five receptions for 69 yards, one of which was a 39 yard rainbow from Rodgers. The WR3 in the Packers offense has received at least 80 targets since 2015. He has the value of a low WR2/high Flex depending on the matchups. Great stash in case the Packers have any injuries as well.
Available in 90% of ESPN Leagues
Available in 88% of Yahoo! Leagues
Phillip Lindsay, RB, Denver Broncos
Matt Shannon – @MattyShannon9
Leading up to Week 1, we all thought this backfield belonged to Royce Freeman (ADP 43.5) and that Phillip Lindsay would merely be competing with Booker for #2 duties. On Sunday, Lindsay played only three fewer snaps than Freeman against the Seahawks and made the most of his opportunities finishing with 15 carries for 71 yards coupled with two receptions for 31 yards and a touchdown. Lindsay is a smaller runner (5-foot-8 /185 lbs) that had a very productive career at Colorado and might just carve himself a role in this Broncos offense moving forward. Worthy add this week as the volume is already there after Week 1 and he could work his way into a solid flex piece.
Available in 98% of ESPN Leagues
Available in 96% of Yahoo! Leagues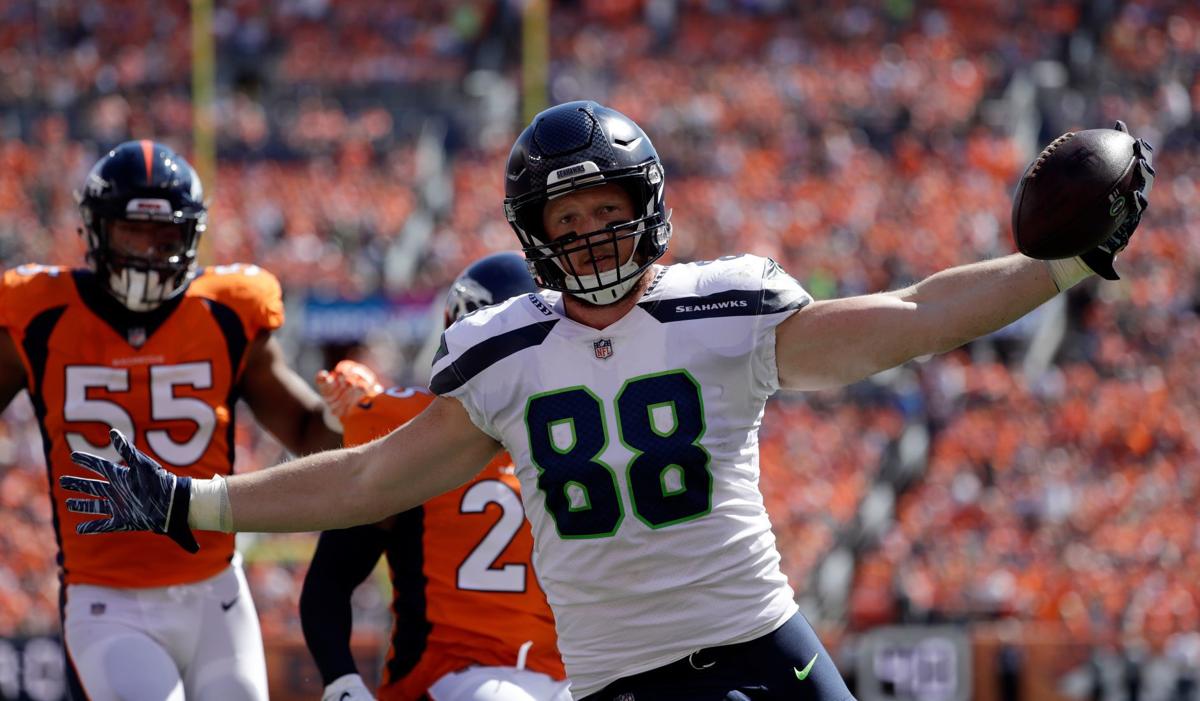 Will Dissly, TE, Seattle Seahawks
Jon Gannon – @TheGannonBallZ
If you saw Will Dissly breaking out for 105 yards and a touchdown on three receptions in Week 1 you're either his mother or a psychic, in which case I'll be contacting you for winning lottery numbers. A 4th round pick this year coming out of Washington, Dissly was expected to take on more of blocking role, but I guess he never received the memo. Playing 33 snaps vs other Seattle tight end, Nick Vannett's (35), Dissly was also targeted five times to Vannett's 2. Unless you have one of Gronkowski, Kelce, or Ertz, your tight end spot is likely flexible. Dissly is worthy of the add and stash for at least the next couple of weeks to see if this was a one game fluke or if he's this year's great breakout at the tight end position.
Available in 99% of ESPN Leagues
Available in 97% of Yahoo! Leagues
John Brown, WR, Baltimore Ravens
Jon Gannon – @TheGannonBallZ
What a great opening week for Downtown Johnny Brown! I have no idea if that's his actual nickname or not, but it is now. The speedster opened up the 2018 campaign with three receptions for 44 yards and one touchdown. After getting great reviews from teammates and the media during training camp, Brown has backed it up with a solid Week 1 performance. On a team with Michael Crabtree and Willie Snead as his competition at wide receiver, Brown has the opportunity to really break out. Joe Flacco loves throwing the deep ball which gives John Brown the opportunity for a boom play each week.
Available in 78% of ESPN Leagues
Available in 80% of Yahoo! Leagues
Tyler Lockett, WR, Seattle Seahawks
Matt Shannon – @MattyShannon9
Injuries are never fun. Doug Baldwin will be sidelined at least a couple weeks with a Grade 2 partial MCL tear and Lockett may emerge as the top target for Russell Wilson while Baldwin is away. Lockett caught three passes for 59 yards and one touchdown on four targets during Sunday's 27-24 loss to the Broncos. He'll have a tough upcoming test against the Bears in Week 2 but he is certainly a candidate to see his weekly targets grow. Worthy of an add in deeper leagues.
Available in 46% of ESPN Leagues
Available in 49% of Yahoo! Leagues
Phillip Dorsett, WR, New England Patriots
Will Collins – @fanaticallywill
The Patriots entered the 2018 season with very limited playmakers at the WR position. Julian Edelman is serving a 4 game suspension and outside of that nothing else was really set in stone leaving a lot of targets to go around. The benefactor of that in Week 1 was Phillip Dorsett. He did not drop a single target. Tom Brady looked for Dorsett seven times and he hauled them all in, ending the game with 66 yards and a TD. Just know that with Edelman coming back after Week 4 this may not be a long-term performance indicator.
Available in 95% of ESPN Leagues
Available in 96% of Yahoo! Leagues
Chris Godwin, WR, Tampa Buccaneers
Matt Shannon – @MattyShannon9
That offense was definitely a surprise on Sunday! No Jameis, no problem. Chris Godwin caught three of his four targets for 41 yards and a touchdown in the Buccaneers' 48-40 win over the Saints on Sunday. I think Godwin is a candidate to see an increasing role throughout the season and the second-year's season started off on the right foot. It's worth noting that despite DeSean Jackson's stat line on Sunday, Godwin out-snapped him 70% to 30%. DeSean Jackson is in concussion protocol leading up to Week 2 and Godwin could slide into the #2 WR role against the Eagles. The talent is there for him to build upon his promising Week 1 performance. Worthy of an add in deeper leagues with upside for continual involvement in the offense moving forward.
Available in 66% of ESPN Leagues
Available in 70% of Yahoo! Leagues
T.J. Yeldon, RB, Jacksonville Jaguars
Jon Gannon – @TheGannonBallZ
If you're reading this and have Leonard Fournette on your fantasy team I want you to stop, get on your fantasy leagues website, and pick up T.J. Yeldon. Then go to – https://itunes.apple.com/us/podcast/id1429059235 to listen, like, subscribe, and rate 5 Stars for Not The Best Fantasy Football Podcast. Have you done that? Okay, good, back to the issue at hand. Leonard Fournette is currently day-to-day after leaving Sunday's game with a hamstring issue. In his place, Yeldon rushed 14 times for 51 yards, while catching three of seven targets for 18 yards and a touchdown. While Fournette is clearly the workhorse here when healthy, hamstring issues have a tendency of lingering and potentially leading to other lower body issues. Yeldon is a must add in all standard and PPR leagues. As long as Fournette is out, Yeldon will receive enough of a workload to be fantasy relevant. Even once Fournette is back, Yeldon is worthy of keeping on your bench as Fournette missed three games last year due to lower body injuries.
Available in 98% of ESPN Leagues
Available in 84% of Yahoo! Leagues
Jared Cook, TE, Oakland Raiders
Will Collins – @fanaticallywill
Some of the bigger injuries in Week 1 came at the tight end position. We saw Delanie Walker go down and is now on the IR for the rest of the year and Greg Olsen get banged up and now questionable for Week 2. For those in need of a TE look no further than Jared Cook. In case you missed the nightcap of the Monday Night Football doubleheader, Cook finished with a massive game. He saw 12 targets and turned that into nine catches for 180 yards. There is a lot of usage here for Cook and is worth a flyer for at least a short time until this usage ride sees regression.
Available in 72% of ESPN Leagues
Available in 48% of Yahoo! Leagues
About Author