Draft Mockers – Mock Draft 1.0
Miami Dolphins, Mike McGlinchey, OT, Notre Dame
I believe he is one of the best tackles available. He can play either left or right tackle and has great size. Maimi needs a G, but may opt to move Lamery Tunsil back inside where he performed better. This will sure up their o-line.
google.com, pub-2319592412860037, DIRECT, f08c47fec0942fa0
Cincinnati Bengals, Connor Williams, Offensive Tackle, Texas
Marvin Lewis was gone before the season was over. Then, the season was over and now he is coming back. Hope you followed along because it got confusing. However, the head coach will come back for another season after another losing season for the Bengals. After investing in skill players early in last year's draft, now they focus on fixing up the offensive line. This will allow for Dalton to stay upright and help last year's rookie, Joe Mixon, in the run game.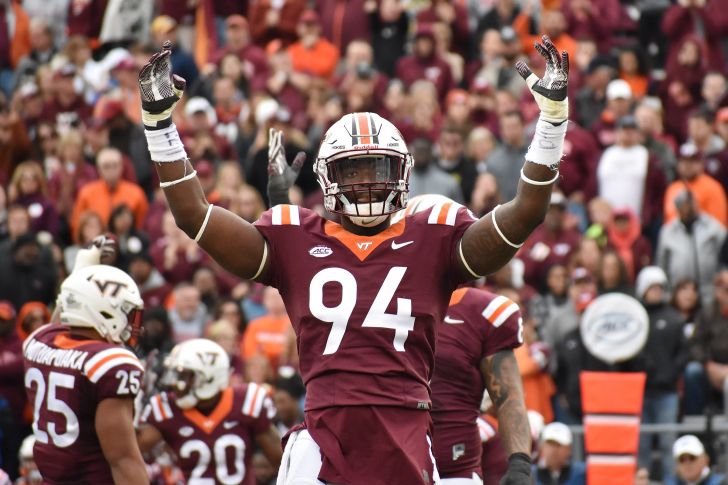 Washington Redskins, Tremaine Edmunds, Linebacker, Virginia Tech
What do Evan Engram, Zach Ertz and Jason Witten have in common? They are all tight ends in the NFC East who have made big plays against the Redskins. That's why picking Edmunds here makes sense. He has great range, can cover TEs and RBs and also has pass rushing abilities. Defensive Coordinator Greg Manusky, a former LB coach, will enjoy inserting Edmunds into his defense.
Green Bay Packers, Josh Jackson, Cornerback, Iowa
The Green Bay Packers will be able to score points easily, with a guy like Aaron Rodgers behind center, it isn't that hard. Unfortunately, the Packers give up nearly as many points as they score and will need to bolster that defense, especially the secondary. Josh Jackson is an amazing pick here for the Packers. Jackson had an amazing breakout season this year for the Hawkeyes, with eight interceptions and winning the Jack Tatum Award, the award for the best secondary player. Jackson is perhaps the top corner in this year's draft and getting him at 14 is a steal for the Packers.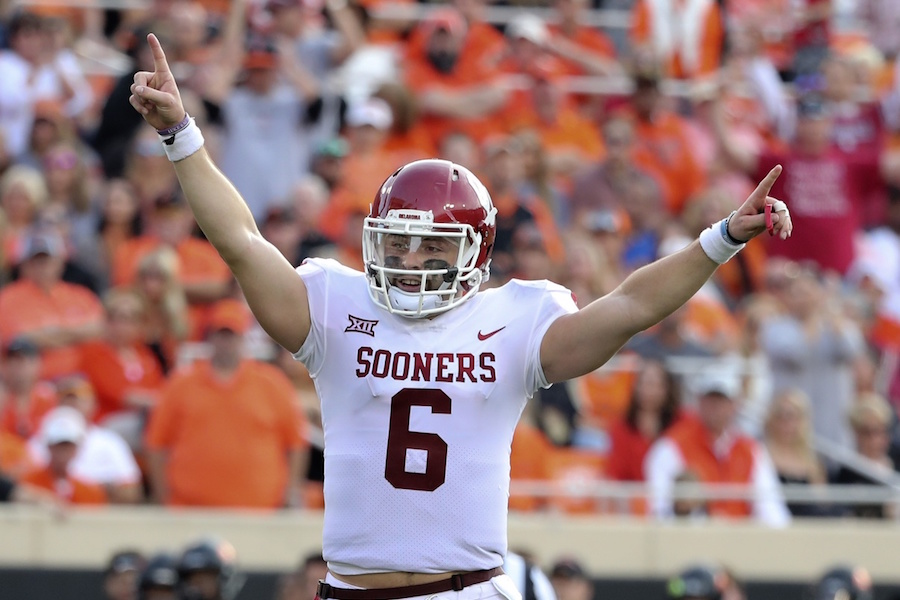 Arizona Cardinals, Baker Mayfield, Quarterback, Oklahoma
Arizona would be thrilled if Mayfield drops to 15. They might even have to move up to grab him after Mayfield's combine results and pro-day.Mayfield begins a new era in Arizona after the departure of Bruce Arians and Carson Palmer. His personality and winning attitude are one the fanbase can rally around  He will have to overcome the negative stereotype of being a small, system-oriented college QB, similar to his NFC West counterpart, Russell Wilson. However, Arizona would love if Mayfield turns out anything like Wilson has.
Baltimore Ravens, Courtland Sutton, WR, SMU
He is a big, physical receiver that can catch in traffic. He is also explosive after the catch. Everything Baltimore wide receivers lacked last year. He gives Joe Flacco a legit option to throw to.
Los Angeles Chargers, Josh Allen, Quarterback, Wyoming
The Chargers were ultimately hurt by their poor start of 0-4. They were just shy of the playoffs as they ending the season on a 9-3 run. While Rivers had a good year, this is about the ability to let Rivers keep playing and allowing Allen to learn. He is a project that needs time and Rivers and the Chargers allow for that development to happen. Last year's rookie Mike Williams was injured for most the season so the Chargers have the ability to make this investment pick.
Seattle Seahawks, Orlando Brown, Offensive Tackle, Oklahoma
The Seahawks have some top-notch offensive linemen in Justin Britt and Duane Brown, but RT Germain Ifedi was one of the least successful linemen in the league in 2017. With Orlando Brown being available at this point of the draft, the Seahawks will have a great opportunity to replace Ifedi.
Dallas Cowboys, Da'Ron Payne, Defensive Tackle, Alabama
The Cowboys had a major down year this season after their surprising breakout 13-3 season a year previously. The Cowboys struggled to stay healthy and also struggled on defense. The Cowboys were one of the worst teams at stopping the run last season and Payne will be the player they need to plug up the middle. Payne was a major player in that daunted Alabama defense and played a major role in them winning two National Championships in his time there. Payne is a great fit for the Cowboys at pick 19 here.
Detroit Lions, Ogbonnia Okoronkwo, OLB/WDE, Oklahoma
Detroit could surprise and take Guice with this pick; however, upgrading their pass rush should be at the top of the list to improve. Detroit ranked 20th in the league in sacks per game in '17 and Ziggy Ansah is a free agent this off-season. Okoronkwo isn't your prototypical, over-sized pass-rusher, it's his versatility and speed off the edge that will have scouts clamoring after an impressive combine turnout.
Buffalo Bills, Maurice Hurst, DT, Michigan
He is effective as a pass rusher and against the run. I also like his versatility, he can play 4-3 DT or 3-4 DE. He has great size, strength and speed. Buffalo lacks a dominant defensive lineman and Hurst is a viable replacement for Marcell Dareus.
Buffalo Bills (from Kansas City Chiefs), Mason Rudolph, Quarterback, Oklahoma State
The Bills shocked the world and made the playoffs for the first time in 18 years. Sean McDermott and company has made it clear they don't have Tyrod Taylor in their future plans and would like their own guy. The Bills drafted Nathan Peterman last season, but they have the chance to grab the face of the franchise. Rudolph is big, strong and has an NFL-ready arm. After grabbing a DT to help the defense, they can now focus on the offense.
Los Angeles Rams, Isiah Oliver, Cornerback, Colorado
The Rams might be losing Trumaine Johnson and Lamarcus Joyner, who possibly will be leaving in free agency. Isiah Oliver steps into the Rams' defensive backfield as a Day 1 starter. He has the range and big-play ability.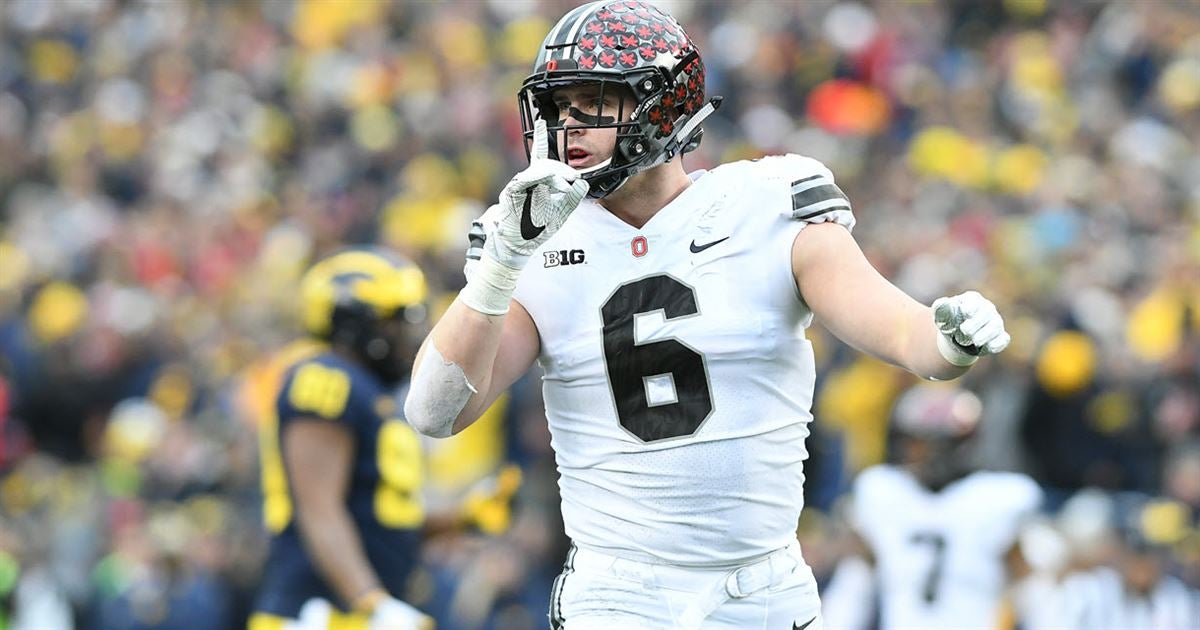 Carolina Panthers, Sam Hubbard, Defensive End, Ohio State
Last season, the Carolina Panthers were the best team in the NFL at stopping the run, however, they were one of the worst at stopping the pass. This came from the lack of pass rushing that came from the Panthers defensive line, especially on the ends. Hubbard will help to fix that problem and bring the Panthers' defense back to the level they played at in 2015. Hubbard was a standout at Ohio State and the focal point of the scary Buckeye pass rush. Last season, Hubbard had a career-high seven sacks and will look to continue to get better at the next level. With defensive-minded coach Ron Rivera, Hubbard should have no problem improving his game in Carolina.
Tennessee Titans, Will Hernandez, OG, UTEP
Tennessee is ready to compete for an AFC title. They will look to improve the anchor of the offense that sputtered at points throughout 2017. Although they made it to the AFC divisional round, improving the strong o-line and run game will provide Mariota the luxury to be a game manager and not having to rely on his arm. In a weak division, Tennessee has the pieces in place and Hernandez's impressive performance at the Senior Bowl and combine will catapult him into a Day 1 tender.  
Atlanta Falcons, Isaiah Wynn, OG, Georgia
Atlanta's offense is in good shape, but it could use some help at the guard position. Wynn is versatile because he can play tackle, if needed. He would provide the o-line with an upgrade at the guard position to improve their already-high octane offense.
New Orleans Saints, Rashaan Evans, Inside Linebacker, Alabama
Run Saints Run, was the motto they lived by. The Saints rode their Pro Bowl running backs, Mark Ingram and Alvin Kamara, to the top spot in the toughest division in football. Knowing they have young players still getting better on the offensive side of the ball in Ingram, Kamara and Thomas, the defense is the focus for the Saints. Rashaan Evans give the Saints that physical and skilled force in the middle of their defense. Evans significantly upgrades the lackluster group of LBs the Saints currently roster.
Pittsburgh Steelers, Jaire Alexander, Cornerback, Louisville
Since Ike Taylor and Ryan Clark left the Steelers, cornerback has been a position of need for them. Last year, they brought in Joe Haden, but they still need a lot more help. Jaire Alexander has excellent ball skills and maybe will be the next great Steelers defensive back. He will help solidify the back-end of their defense, which has been a problem for the past few seasons.
Jacksonville Jaguars, James Washington, Wide Receiver, Oklahoma State
The Jaguars are coming off of one of their most impressive seasons in franchise history, getting all the way to the AFC Title Game. This offseason, they have a big decision to make about star receiver Allen Robinson, who missed all of this season with an ACL injury. Many believe that the Jaguars will choose to move on from Robinson and here with this pick, they can get his replacement. Washington was one of the most explosive receivers in college during his time as a Cowboy, putting up huge numbers and taking home plenty of awards. Look for Washington to become one of the league's next best deep-threat receivers.
Minnesota Vikings, Billy Price, OG, Ohio State
Minnesota's largest task this offseason is figuring out who plays QB in '18, asides from that the focus will be continuing to improve the substantially upgraded o-line. The unit's improvement was the catalyst for 2017's success and playoff run. One of the key additions from the '16 draft was 1st rounder Pat Elflien from Ohio State. Rick Spielman will go back to the well and draft another Buckeye and 2017 Rimington award-winner, Billy Price. His ability to move to the guard slot will solidify a significantly improved o-line unit.
New England Patriots, Ronnie Harrison, Safety, Alabama
A tough loss in the Super Bowl after a great season by the Patriots and Tom Brady. The shortcomings were not due to the lack of offense, but rather, the lack of playmakers on defense. The Patriots secondary needs a ball-hawking safety. Ronnie Harrison is a pure safety with great athletic skill. He would be a great addition and fun toy for Bill Belichick to scheme with.  
Philadelphia Eagles, Derrius Guice, RB, LSU
The running back position is important in the Eagles offense. Blount is probably leaving as a free agent and Sproles is getting up there in age. Philly needs to find a replacement and added depth to Jay Ajayi. Guice is arguably the 2nd=best RB in the draft and would give the Eagles a threat in the backfield for years to come.
Cleveland Browns, Sony Michel, RB, Georgia
If the draft goes as shown, here the Browns have the opportunity to draft one of the many talented RBs in this draft. I went with Michel here because he has similar attributes to Kareem Hunt, who new GM John Dorsey drafted last year in Kansas City.
New York Giants, Lamar Jackson, Quarterback, Louisville
The Eli Manning era in New York is coming to an end and it was more apparent last season than ever as the Giants finished at 3-13. The Giants will look at add their QB of the future here with Jackson, one of the most explosive quarterbacks in college football history. Jackson lit up the stat sheet more than any other quarterback in recent history and will look to bring that to the next level. With the Giants taking Barkley with their second pick and still having one of the best receivers in the league with Odell Beckham Jr., expect the Giants to have an explosive offense when Jackson takes over.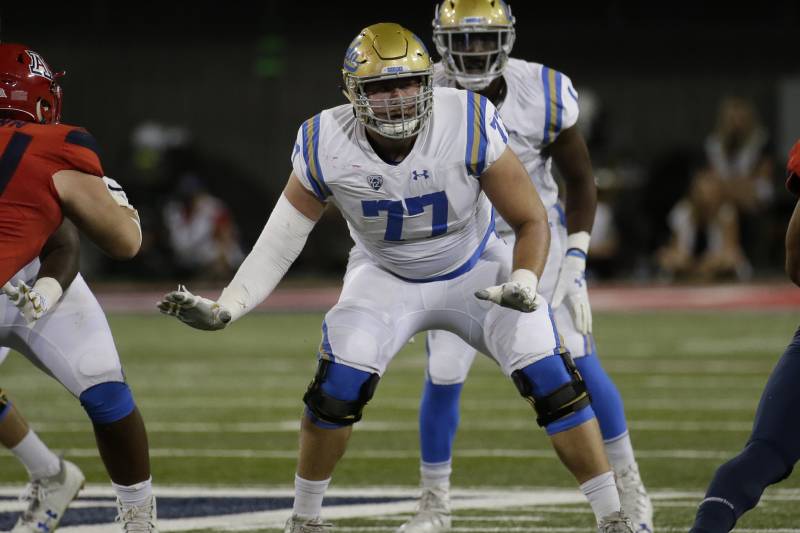 Cleveland Browns, Kolton Miller, OT, UCLA
What the Browns will do under this new front is anybody's guess. Assuming they get their QB of the future with their first two picks, Cleveland will need to address the fact veteran Joe Thomas is retiring soon, if not the upcoming season. Miller is slotted as an end of round one/early round two prospects by many draft analysts who mention he is raw and needs to be developed. Miller seems like the perfect prospect to learn from Joe Thomas to sharpen his technique and footwork and be ready to take over the starting spot the following year if need be.
About Author