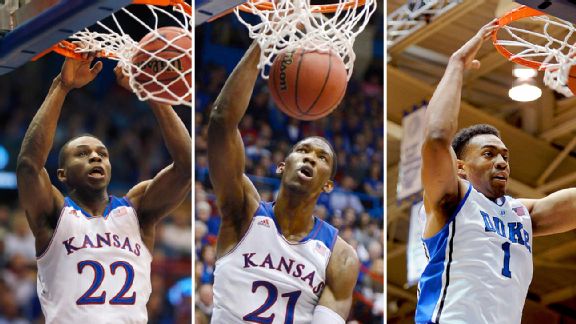 Thursday, June 26 has the chance to become one of the biggest days in the history of the Cleveland Cavaliers.  The 2014 NBA draft will take place on that night.  The Cavs overcame all odds and with only a 1.7% chance, won the draft lottery.  Ever since the King fled the shores of Lake Erie and claimed his throne in South Beach, the Cavaliers have been the definition of abysmal.  Sometimes, they have not even been watchable.  There have been games where I feel like my 5 man pick up team could put up a better showing.  This last season showed some promise though.  The pieces are there with a budding star in Kyrie Irving and an up and coming Tristan Thompson.  Dion Waiters also is showing that he can be the scorer that the Cavs projected him to be when we selected him 4th overall in the 2011 NBA draft.  Something is missing though.  David Griffin is a GM who is not afraid to make moves as we saw with Chris Grant.  Mike Brown had to go as coach.  He had absolutely zero control over a locker room that had the talent to put a competitive team out on the court each and every night.  Last season, the Cavaliers picked Anthony Bennett who became just the 5th player since 1988 to be picked 1st overall and not make either of the all rookie teams (insert Cleveland curse statement here and sigh) The Cavaliers have some options in this draft and they cannot afford to mess it up.  There are two or three prospects depending on who you talk to that are "can't miss" prospects.  A trade is also a reasonable option too.
Jabari Parker, Forward (19, Fr. Duke)
Jabari Parker was quite the prospect coming out of Simeon Career Academy in Chicago.  Parker has a frame of 6'8, 241 Lbs.  The best thing that Parker has going for him is he is just a basketball player.  His basketball IQ is off the charts.  He always knows where to go with the basketball and he makes the game look so effortless.  Parker can basically score the ball from anywhere on the court (19.1 PPG at Duke).  He can drive, shoot mid range, and shoots the three fairly well (35.8% at Duke).  Parker has a great motor and always plays hard.  Parker can rebound the ball too, he averaged 8.7 per game last season.  To make it simple, Parker is a flat-out basketball player.  He rarely makes mistakes, he doesn't turn the ball over much and he always makes the best decision with the basketball. However, Parker lacks one thing: Elite Athleticism.  Though his skill set is there, he lacks an explosive first step that is needed to be a strong wing player in the NBA.   The Cavaliers need someone who can come in and be a teammate and also bring skill to the team.  Parker in my opinion is the most safe pick in the draft.  There is nothing about Jabari Parker that brings up a red flag.
Andrew Wiggins, Forward (19, Fr. Kansas)
Here it is, the most exciting prospect in the draft who has had scouts drooling for years.  Andrew Wiggins, a guy who some call the next LeBron (though that will never happen), is finally going to get to show scouts what he can do.  Wiggins has a frame that screams athleticism (6'8, 200 Lbs).  He also has a vertical that is 44 inches high.  If you have not seen the picture of his vertical leap, you should quit reading this article and go google it right now.  Wiggins is a fantastic scorer.  He averaged 17.1 PPG at Kansas last season.  He has a great jump shot and can get into the paint at will.  He also pulled down 5.9 rebounds per game.  There are some negatives to Wiggins though.  Some question his passion for the game.  Also it is questioned if his basketball IQ is high enough to take on the pressure of being the player who many want him to be.  I think that Wiggins would be fantastic for the Cavaliers with his ability to score and the athleticism that he possesses.
Joel Embiid, Center (20, Fr. Kansas)
Joel Embiid could make David Griffin look like a genius, or like a complete fool.  Embiid has excellent size (7 foot, 250 pounds).  Embiid only began playing basketball in 2011.  Many think his basketball skills are only scratching the surface.  With proper coaching, who knows what Embiid could turn into.  Embiid is your typical center style.  At Kansas, he averaged 11.2 PPG and pulled down 8.1 RPG.  I think that the stat that sticks out to Cavs management the most is his 2.6 BPG.  The Cavs have no rim protector.  Tristan Thompson is athletic but Embiid defines rim protector.  Embiid has excellent balance for being a 7 footer.  He plays well with his back to the basket and also while facing the basket.  Scouts question Embiid's strength, which he can easily improve on once he gets to training camp.  He also needs to work on his pure basketball skills, which with good coaching will be easy to do.  The biggest question mark for me and I think the one thing from making Embiid the sure number one selection is his back.  His back injury caused him to miss the entire Big 12 and NCAA tournament.  For the Cavaliers, Joel Embiid could be something that the Cavs have not had in a very long time, a skilled true center.
Trade
Trading the number 1 overall pick is also something that is an option for David Griffin.  It would take a lot in my opinion for the Cavs to pass up on one of the three guys above unless they get the house in return.  One very unlikely scenario that would intrigue me would be giving up the number one overall pick, Dion Waiters for Kevin Love.  Do I think that would happen, no.  However, I am just saying it would take something like that for me to want to give up that first overall selection.  Unlike last year, this draft has guys who are worthy of the number one selection.  Bill Simmons reaction to Anthony Bennett being selected last year was the same as mine every time I watched Anthony Bennett step on the floor.  With that being said, if the Cavs don't want to take the chance of picking someone and getting it wrong, trade the pick.  If a trade occurs though, you HAVE HAVE HAVE to at the minimum, get an All-Star caliber player and swap first round picks in my opinion.  The only way I would not want a pick in return would be in the Kevin Love situation.
Verdict
No one can ever know what the Cavs are going to do until they actually do it (Anthony Bennett).  If I had the power to make the pick, I would have to flip a coin for Wiggins or Parker.  I feel like both of them can make an immediate impact, while Embiid might take a year or two to really get going.  If I was in charge, this would be my list of what I would do in order.
1. Wiggins
2. Parker
3. Trade
4. Embiid
I guess on June 26th we will see what happens.
Ian Tumey
@CST_IanT