CST Fantasy Football – Rookie Preveiw
While the NFL Draft is right around the corner, there are so many storylines that you need to be able to keep up with. One of the storylines that may fly under the radar is how the draft is going to affect fantasy football.
Fantasy football has certainly taken a new level of importance to football fans. It became a lifestyle for many, I included, and the draft is just the first part of the season. Rookies always play a key role in determining how an owner's season will go. By taking risks on rookies you are giving yourself, what should be a calculated risk. This is a risk because these kids have not played a down in the NFL and now you might just be expecting them to take you to the championship.
google.com, pub-2319592412860037, DIRECT, f08c47fec0942fa0
If you grab a rookie running back early and they have a strong season you look great. Just ask a Leonard Fournette owner from last year and you are bound to find successful seasons behind that name. Fournette was the predominant pick as the first rookie off the board in last year's drafts. This is an example of the bet paying off. On the flipside, we could find Joe Mixon owners who were not so successful in the attempt to steal a rookie. Mixon came into the season in a battle for carries but was expected to own the workload. By the end of the season, Mixon only racked up one 100-yard game and only eclipsed 50 yards three other times. Mixon was a headache with a lot of hope that never played out.
I wanted to just paint the picture and make sure the point of this article is taken for what it is worth. This will highlight five rookies that showed highlight-reel talent at the college level and should keep an eye on, come the draft. If these rookies find the right situations and enough playing time, they could be this year's difference makers.  After the draft, I will be recapping these five players to let you know how I think they fit with their new team and project how it will look this season. A lot will change between now and your drafts…stay tuned and happy NFL draft season!
Saquon Barkley, RB
No debating this one for the top rookie that you should be targeting in your drafts. It will not matter where he gets drafted either. Saquon needs to be your #1 rookie heading into fantasy football season. Barkley was the most electric player this past season in the NCAA and should be the first skill position player taken on offense. Barkley possesses the skill to be a three-down back with the ability to hit the home run on the ground along and compliments that with his ability to catch the ball. Due to his overall skill set and ability, I would project him to be the lead back in whatever offense he joins. Barkley scored in a variety of ways in college and should be able to do the same in the NFL. At Penn State, he scored via running, receiving and even on kick return. While fantasy owners won't want to see him on kick return it just goes to show how versatile he can be. I would not be surprised if Barkley ends up as a top-10 pick in fantasy leagues.
Derrius Guice, RB
Last season LSU sent Leonard Fournette to the NFL and he led the Jacksonville Jaguars and their offense to the AFC Championship game. Guice is not getting as much love as Fournette did, but I am not sure talent is the issue. Guice is a strong and powerful runner who loves to initiate contact. Most of the concerns around him are regarding the injury history. He has great talent and that was seen in 2016 when he took over for Fournette. I would not expect Guice to be the feature back on all three downs in the NFL, but he should be the lead back in a committee. Taking Guice is a risk based on the injuries he has suffered and the potential for the same to happen on the NFL level. If you are thinking about drafting Guice you should work to prepare a running backloaded roster to help hedge your bet. I am expecting for Guice to go in the late first or early second round. He should be the second running back taken off the board.
Courtland Sutton, WR
Rookie receivers are not an easy thing to plan for when thinking about your fantasy football draft. Receivers are a tough projection as a position because their production is based upon their quarterback getting them the ball at the right time and on target. That fact, combined with the unknown of the offense and who the quarterback will leave a lot of unanswered questions for Sutton. I am not projecting Sutton to finish as a top-five fantasy rookie because I do think with Barkley, Guice, other RBs and potentially a QB may have more opportunities to touch the ball. Sutton is a big-body receiver who showed a lot of promise at Southern Methodist University. He compiled over 2,300 yards and 22 TD over the past two seasons. One hesitation with those monster numbers is the competition he faced and will it be able to translate. Sutton is not a burner by any means, so he will win with his big body and the ability to create separation on routes. The right QB and system should allow for Sutton to be a big threat inside the red zone and at the goal line which should increase his upside. I know people love Calvin Ridley, but I expect Sutton to be the first receiver off the board in the NFL draft.
Lamar Jackson, QB
While he is not the best QB in this year's draft class, he is the best option when it comes to fantasy. This is going to be very dependent on if he is in a situation where he can win a starting job. For this case and point let's assume he does. What Jackson brings to the quarterback position with his athletic ability has not been seen in a while. Outside of Barkley, who we previewed before, Jackson has the best playmaking ability. Despite the lazy reports, Jackson is a pass-first quarterback and will make plays out of the pocket when needed. He is able to push the ball downfield for big throws but will need to hit those on a more consistent basis. The best example would be to look at Deshaun Watson last year. Had he stayed healthy for the whole season, I am sure a lot of leagues champion would have had him on the roster. I could see Jackson fitting that Watson-type fantasy QB.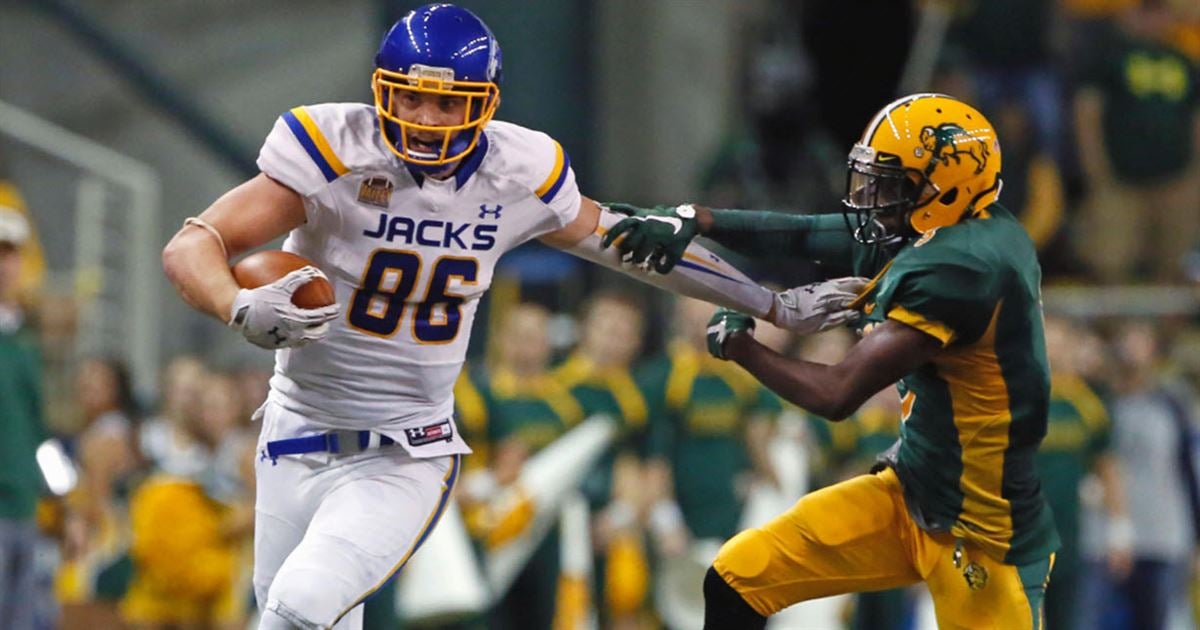 Dallas Goedert, TE
This is the one that may surprise some people, for two reasons. First, a lot of football fans are not familiar with the name of Dallas Goedert. Second, I am sure you are scratching ahead and thinking a tight end, really!? My response to that is the NFL is moving to a positionless game and the tight end position is catching the full brunt of that. Goedert is an athletic big-bodied tight end who is going to make any NFL QBs life easier. Over the past two season, he has totaled over 160 catches/2,400 yards/18 TDs. He is slightly smaller than Rob Gronkowski, which should allow him to use that big frame in the red zone. Last season Evan Engram finished as a top-seven TE which has me excited to see what Goedert can do. I don't know if I would project a top-seven,  but I could easily see Goedert as a top-10 TE if all goes well.
Images: ESPN
About Author