Could Jeremy Maclin Help the Browns?
After reports that free agent WR Dez Bryant turned down a contract offer from the Browns for under $5 million, the Browns could still be in the market for a wide receiver before the team's season-opener against the Pittsburgh Steelers in less than two weeks.
Well, how about Jeremy Maclin?
Yes, star receiver Josh Gordon has made his return to the team, but after a trade of Corey Coleman, a season-ending injury to Ricardo Louis and an off-the-field incident with police for Antonio Callaway, the Browns may need all the help they can get.
Since the deal with Bryant fell through, the team should set its sights on another former Pro Bowler in Maclin. Maclin, just like Bryant, has not been the most productive receiver when compared to previous seasons, but the Browns don't need that level of production at this point.
Over nine NFL seasons, Maclin has recorded 514 receptions for 6,835 yards and 49 touchdowns. Maclin has three seasons of 900+ yards. While not quite the level of Bryant, Maclin has been a near top-level receiver for playoff teams like the Philadelphia Eagles and the Kansas City Chiefs.
Josh Gordon, who will not be a starter for Week 1, according to Hue Jackson and Jarvis Landry will carry the bulk of the receiving load for the team. What Maclin can do is provide another level of veteran leadership while serving as a productive number three receiver that could get open on routes underneath deep coverages or over the middle against man-to-man coverage.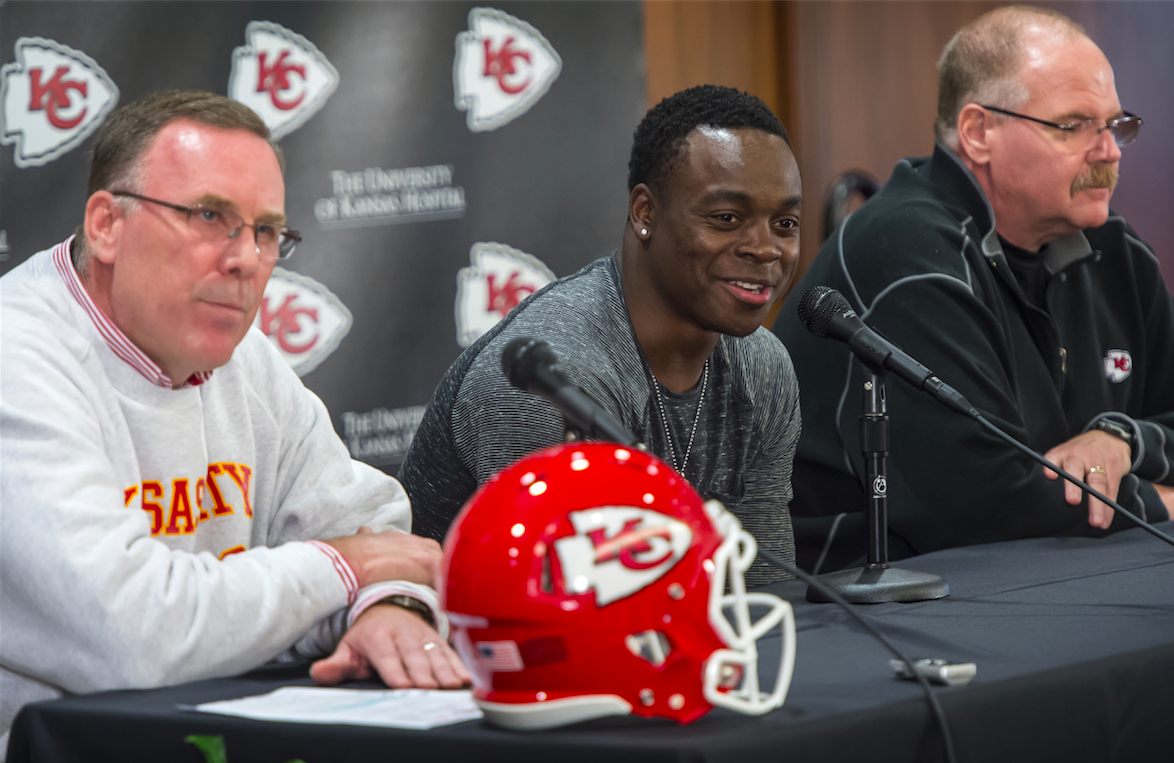 Another plus for Maclin is his familiarity with the Browns General Manager in John Dorsey. Dorsey was the GM of the Chiefs during Maclin's short stay in Kansas City where Maclin produced his last 1,000-yard season to date. However, once Maclin's injuries built up and contributed to his lack of production, Dorsey released him to free agency after the 2016 season despite signing a five-year, $155 million contract before the 2015 season.
Luckily for both the Browns and Maclin, he will not garner that large of a contract at this stage in his career which can make him a low-cost, high-reward option to bolster the receiving corps.
Also, Maclin will not come with baggage like Bryant would. Maclin does not have a documented up-and-down relationship with his teammates and coaches. After two combined seasons of 1-31 and the addition of multiple new coaches and executives, the Browns are actively trying to change a long-standing culture of losing and any potential misfits will set this team back even further.
It's hard to imagine that the current group of receivers will last the team the entire season and despite the positive outlook to the season, there are a lot of unanswered questions.
Until then, fans will have to just wait and see.